News articles and other items about Neighborhood Legal Services and of relevance to our clients, donors, community partners, and volunteers. NLS also publishes Equal Justice Matters, a quarterly newsletter updating our donors, clients and funders on the exciting new ways NLS is making civil legal aid more accessible, which can be read here.
Neighborhood Legal Services is pleased to introduce Equal Justice Update, a periodic e-newsletter to share important news and updates about how – with your support – we help vulnerable people throughout Allegheny, Lawrence, Beaver and Butler counties access free, civil legal aid.  To see the latest issue of Equal Justice Update please click here.
Following the cessation of the Statewide Eviction Moratorium on September 1 by Governor Tom Wolf, NLS attorneys have helped tenants across Allegheny, Beaver and Lawrence counties maintain housing during the COVID-19 pandemic. This is made possible in part by NLS's receipt of CARES Act funding, given through the Pennsylvania Legal Aid Network, aimed at preventing evictions. NLS attorneys have also sought to mitigate confusion and inconsistencies in courtrooms brought about by (1) the end of the Moratorium and (2) the subsequent introduction by the Trump administration of public health laws putting a federal halt on eviction proceedings. NLS Housing Attorney, Eileen Yacknin, was quoted in an article by 90.5 WESA, on this issue: "Different magistrates have different interpretations and therefore carry out these hearings in totally random - for them, maybe not random - but we as litigators see as random ways, in ways that aren't necessarily, what we believe, is in compliance with the law."
The Pittsburgh Pro Bono Pardons Project
Neighborhood Legal Services and the Pro Bono Center are launching the Pittsburgh Pardons Project to help clear criminal records in Allegheny county. Do you have a criminal record that's holding you back?  Click here to find out if you're eligible for our services.
On October 13th, from 12:00pm-1:00pm, we are hosting a Free Virtual CLE session for attorneys about the Pardons Process. The session is free for attorneys who agree to take one pro bono pardon case through the Pittsburgh Pardon Project and a one hour substantive CLE credit will be offered. Click here to register and learn how you can help someone with a criminal record maximize their chance of success in the pardon application process.
Amy Carpenter, a managing attorney at NLS, appointed to Co-Chair of the Pennslyvannia Bar Association's Legal Services to the Public Committee!
Congratulations to Amy Carpenter on her appointment to Co-Chair of the Pennsylvania Bar Association's Legal Services to the Public Committee. The PBA's Legal Services to the Public Committee provides assistance in the creation of programs designed to provide for the delivery of legal services to indigent Pennsylvanians. It also monitors and makes recommendations concerning all legislation regarding unmet legal needs and pro bono service. Congratulations to Amy!
Attention: Volunteers Needed to Assist Attorneys With PFA Cases When the Courts Reopen
The court has continued all "final" PFA hearings due to the current Covid-19 pandemic. NLS attorneys and our PFA law students are helping each PFA petitioner prepare their petition over the telephone for presentation to the Court. Anyone granted a Temporary Order of Protection is either assigned to NLS, the Women's Center and Shelter, or private counsel. Because the final hearings are not being scheduled on a date certain, we have chosen to keep the cases as opposed to trying to assign them to pro bono attorneys who may or may not be able to handle the case on the date they ultimately get scheduled by the court. We cannot be certain that any case assigned to a pro bono attorney will ultimately be handled by the same attorney given the uncertainty. This can put victims in the position of telling their story to multiple attorneys. We certainly do not want to create this kind of confusion and additional stress for these victims. However, we are still going to need help once all the existing PFA's get scheduled for the final hearings. We expect that the court will want to move these cases quickly and that there will be numerous cases scheduled on any given day.
The help we are requesting of you in the month or so after the Court reopens comes in the form of helping us negotiate and/or continue the cases should service still be an issue. If you can sign up to take a morning to come up and help our attorneys, we would email you one or two client Petitions and Temporary Orders before the date of the final hearing. You do not need to talk to nor interview the client prior to the day of the hearing.  If you can negotiate a settlement or continue the matter that morning, your work is done. If a hearing is required, NLS staff will take the case back. Your triage, analysis, and negotiation skills will help to process cases in an efficient manner benefiting both the court, the litigants, and the NLS attorneys! If you are willing to help us in this manner, please contact Mary Ann Troper Malley at troperma@nlsa.us or call her at (412) 586-6134 so she can get you on the calendar for a date or dates in the month of June – at least we "think" this will be when hearings start getting set up. If the court's order gets extended, we would simply ask you to choose another date.
Neighborhood Legal Services on The Confluence Discussing Custody Issues During Covid-19
NLS Managing Attorney for Family Law Susan Abramowich addressed how pandemic protocols can be complicated for ex-partners navigating child custody and the impact of the judicial emergency on family law cases during The Confluence, WESA-FM's morning news broadcast. You can listen to her segment here.
Giving Matters because Justice Matters - Equal Justice Campaign Benefitting Civil Legal Aid Programs Underway!
Neighborhood Legal Services' Equal Justice Campaign is an annual fundraising campaign where the entire legal profession comes together around a common cause — helping to ensure that the neediest members of our community have access to civil legal help. Contributions made to NLS's Equal Justice Campaign enable to people to obtain justice they deserve not just what they can afford.
Over the 32 past years, our legal community collectively has contributed more than $6.2 million through the Equal Justice Campaign. Those receiving services made possible by the Equal Justice Campaign Campaign include the elderly, disabled individuals, veterans, children, domestic violence victims, people at risk of losing their homes, and many other people in need. Thanks to the legal community's generosity and the ongoing success of the Equal Justice Campaign, tens of thousands of low-income and disadvantaged people have been able to get necessary legal assistance, and the justice system continues to work better for everyone.
Please consider making an annual gift to NLS' Equal Justice Campaign today.
Neighborhood Legal Services Attorney Donna Allen Rosemond Honored as a 2019 New Pittsburgh Courier Woman of Excellence
NLS Attorney Donna Allen-Rosemond was recently named one of the 2019 New Pittsburgh Courier's "Women of Excellence" in recognition of her excellent legal work on behalf of victims of domestic violence. Donna is one of the region's experts in this important area of the law, dedicating her career to helping people navigate a serious crisis in their lives, while maintaining a remarkably sunny outlook herself.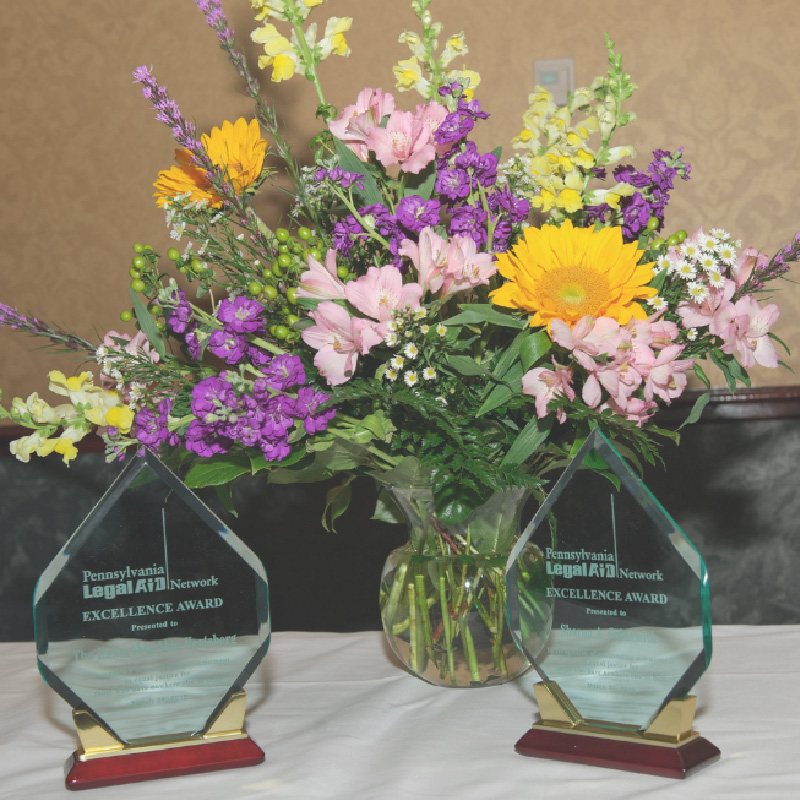 Pennsylvania Legal Aid Network Excellence Awards
NLS Attorney Joan Tutak and NLS Pro Bono Volunteer Samuel R. Grego with Dickie McCamey & Chilcote, P.C, were selected to receive the Pennsylvania Legal Aid Network Excellence Awards at banquet honoring them and 7 others on March 31, 2020 in Harrisburg. The PLAN Excellence Awards are presented each year to individuals, groups, and/or organizations that have established excellence and diligence improving the availability and quality of civil legal services for low income people and victims of domestic violence in Pennsylvania. The award recipients include a variety of civil legal aid professionals and friends of civil legal aid across Pennsylvania who were recognized for their efforts in support of the clients served by the civil legal programs of the Pennsylvania Legal Aid Network.